All symposium activities will take place in the Computer Science Instructional Center (CSIC) on the University of Maryland Campus:
Computer Science Instructional Center
Building 406, Paint Branch Drive
College Park MD 20742-3289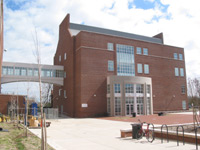 How to get to CSIC from the Route 1 Main Campus Entrance:
After entering campus on Campus Drive, make your first right onto Paint Branch Drive. Pass the construction. CSIC is on your right, toward the back between the Wind tunnel and AV Williams.
Click on the map for larger image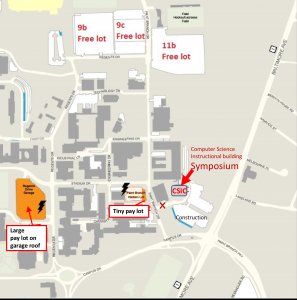 Parking Info:
Free parking is available in Lots 9, and 11, which are about a 10-minute walk from the CSIC building.  You can route to the free Lot 11 using your GPS.
You wont need a permit to park there on the day of the symposium May 24, 2018. Faculty/Staff lots and meters are enforced as usual. Should lots 9, and 11 be full, we recommend using the paid parking or driving to a farther away free parking lot (i.e. all numbered lots except 5 or 19 – see campus parking map)
Paid parking is available on the roof of the REGENTS Drive Visitor Parking Garage for about $15/day.  To get directions route your GPS to 1997 Field House Dr. College Park.
Go to the roof. Remember your parking space number, so you can pay at the machine.
There is also a tiny meter pay lot closer to CSIC but with only about 10 spots so it will fill up right away.
Using Metro: Use the College Park metro station on the Green Line – toward Greenbelt. Exit on the East side and look for a red UMd Shuttle bus (#104).  Get off the bus at the 1st stop after you cross Route 1 and enter enter campus.  The shuttle may comes less often since it is the summer break so count 15-30 min to get to CSIC.