Featured Faculty: Michelle Mazurek – Associate Professor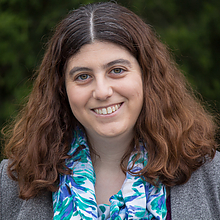 Michelle Mazurek is an Associate Professor in the Computer Science Department and the Institute for Advanced Computer Studies at the University of Maryland, where she also directs the Maryland Cybersecurity Center. Her research aims to understand and improve the human elements of security- and privacy-related decision making. Recent projects include examining how and why developers make security and privacy mistakes; investigating the vulnerability-discovery process; evaluating the use of threat-modeling in large-scale organizations; and analyzing how users learn about and decide whether to adopt security advice. Her work has been recognized with an NSA Best Scientific Cybersecurity Paper award and three USENIX Security Distinguished Paper awards. She was Program Chair for the Symposium on Usable Privacy and Security (SOUPS) for 2019 and 2020 and is Program Chair for the Privacy Enhancing Technologies Symposium (PETS) for 2022 and 2023.
CAN YOU TELL US ABOUT YOUR RESEARCH?
My work is at the intersection of HCI with security and privacy. I study how people make security- and privacy-relevant decisions, with an eye toward helping make it easier to make better and more effective decisions.
WHAT'S SOMETHING YOU ENJOY ABOUT DOING RESEARCH WITH STUDENTS OR SOMETHING YOU LOOK FOR WHEN PICKING NEW STUDENTS TO WORK ON YOUR PROJECTS?
I enjoy working with students because they always bring ideas and perspectives that enrich the research. I'm always looking for students with enthusiasm, drive, and good communication skills.
WHAT IS ONE THING YOU LOVE ABOUT THE HUMAN-COMPUTER INTERACTION LAB?
I love the community atmosphere and the way that HCILers support each other.