Human-Centered AI
Ben Shneiderman, February 12, 2021, ben@cs.umd.edu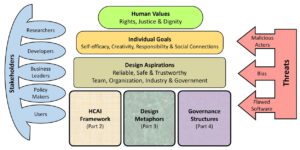 Book to be published by Oxford University Press in early 2022.
Table of Contents (current version)
Part 1: What is Human-Centered Artificial Intelligence?
Chapter 1: Introduction: High expectations
Chapter 2: How do rationalism or empiricism provide sound foundations?
Chapter 3: Are people and computers in the same category?
Chapter 4: Will automation, AI, and robots lead to widespread unemployment?
Chapter 5: Summary and skeptic's corner
Part 2: Human-Centered AI Framework
Chapter 6: Introduction: Rising above the levels of automation
Chapter 7: Defining reliable, safe & trustworthy systems
Chapter 8: Two-dimensional HCAI framework
Chapter 9: Design guidelines and examples
Chapter 10: Summary and skeptic's corner
Part 3: Design Metaphors
Chapter 11: Introduction: What is the goal of AI research?
Chapter 12: Science and innovation goals
Chapter 13: Intelligent agents and supertools
Chapter 14: Teammates and tele-operated devices
Chapter 15: Assured autonomy and supervised autonomy
Chapter 16: Social robots and active appliances
Chapter 17: Summary and skeptic's corner
Part 4: Governance Structures
Chapter 18: Introduction: How to bridge the gap from ethics to practice
Chapter 19: Reliable systems based on sound software engineering practices
Chapter 20: Safety culture through business management strategies
Chapter 21: Trustworthy certification by independent oversight 
Chapter 22: Government interventions and regulation
Chapter 23: Summary and skeptic's corner
Part 5: Where Do We Go from Here?
Chapter 24: Introduction: Driving HCAI forward
Chapter 25: Assessing trustworthiness
Chapter 26: Caring for and learning from older adults
Chapter 27: Summary and skeptic's corner
Chapter 28: Personal Epilogue How I became devoted to human-centered approaches